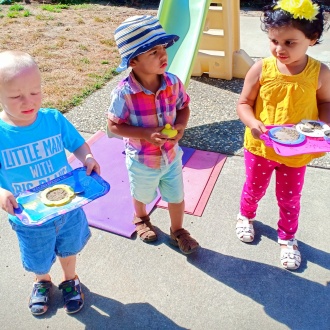 It is through play that children learn to know the world around them. We engage our children in uninterrupted play where they move freely in a natural and relaxed environment. The kitchen corner looks busy with meal preparations. The toolbox corner has enthusiasts trying their little fingers to make and repair. Role play comes alive where children dress up. Playtime is usually busting with joy and laughter.
Outdoor play brings in children, a sense of connection with nature and their surroundings. Play is the best form of research. Their curiosity comes alive when they are allowed to explore, see, touch, feel and make connections with the world around them. Children have a natural tendency of making things out of materials found in nature and anything they could lay their hands on. Our children often collect twigs, leaves, stones, flowers during their Outdoor Play Time and create beautiful designs.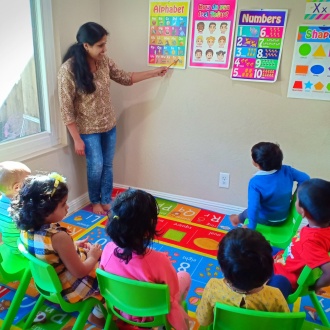 Circle time is the heart of our program. The teacher joyfully sings and gathers the children for circle time. Circle time happens throughout the day in different forms where children sing together and move together into a seasonal or a month based theme. Our day begins with the morning circle where children greet each other through songs and movement and offer prayers of gratitude in Sanskrit. Besides that circle time is a time to practice language and math concepts.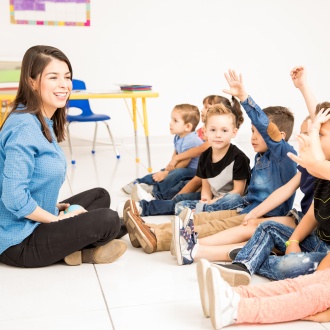 We carefully select the stories for our little ones. The old tradition of storytelling using rhymes and singing songs is integral to child development. Every day our children gather around the teacher for a fascinating aural story. Stories unfold over a period, generally over a week and keep our children enthralled in those sessions. The teachers recite it using various props, intonations, gestures and expressions which bring the images and characters to life in their young minds. Each story leaves them with a moral goes a long way in building their character.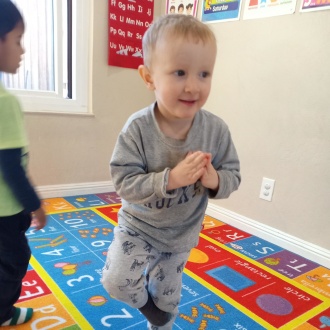 Mantra, Meditation,
Yoga and Exercise
We have named this program as "Get them early". We can't stress enough about starting early and laying the strong foundation of healthy habits for our kids at early age. We consciously try to retune our kids away from devices and re-channelize their attention using ancient sounds of Mantra to sharpen their memories. We encourage them to take their first steps on millennia old path of memorizing verses. We predominantly use verses in Sanskrit language as our teaching aid. Numerous studies have proven that Sanskrit verbal recitation boosts cognitive & memory development amongst children. The rhythmic recitation enhances systematic breathing, lowers blood pressure & heart rate and helps children stay stress free, sharp and focused during the learning sessions. We teach them ancient slokas and mantras to recite on waking up and throughout their day. Through this, the brain starts the day with calmness and their hearts are filled with gratitude. We reserve 3 days in a week to practice simple Yoga postures, physical exercises and the ancient technique of meditation.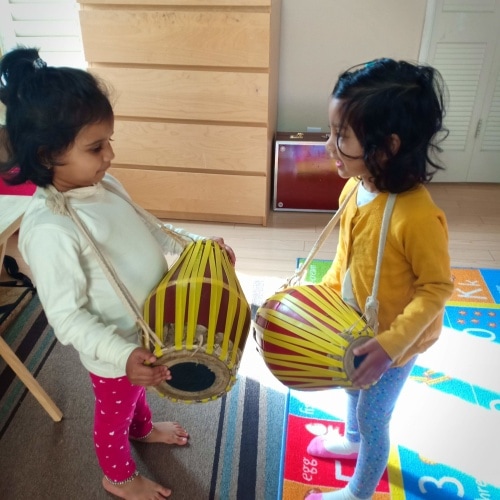 This is the "Soul time" of our program. Singing, music and dance play an important role in every culture for any kind of celebration. Music at early ages, especially if it includes tapping, clapping, bouncing and dancing can help enhance fine and large motor skills. Simple songs along with back-and-forth play can help build brain and body coordination. All of these activities help build important connections across many regions of the developing childhood brain during this essential time of development that too in very happy and cheerful way. We have a nice collection of musical instruments at our school which kids can explore. Our day starts with by playing musical instruments to the tunes of traditional songs, rhymes & Kirtans and dancing. Our day ends with singing songs for kids to see them off.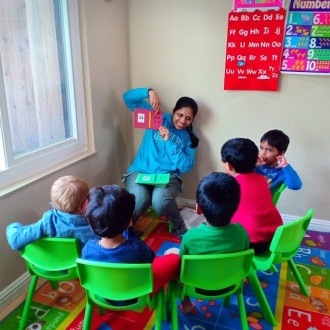 Early childhood setting provides rich opportunities for Math development. To make it more interesting, we gamify the concepts and use visual aid tools to help the child remember and understand better. Children are encouraged to observe nature and find patterns shapes in the environment. Measurement and estimation opportunities are made available to the children.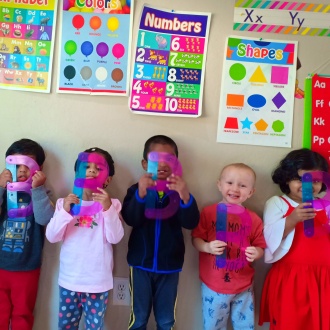 Creating love for learning is an essential part of 'The Nine Islands' program. Facial expressions, gestures, sounds, visual aids, concrete objects and ideas are used. Repetition of vocabulary through listening and speaking helps in laying a strong foundation for children. Practicing language skills over and again lay strong foundation for their future.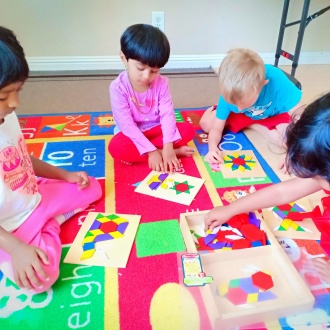 Critical Thinking and
Cognition
We have developed a special curriculum for our Preschool Scholars on Logic, Critical Thinking and Cognition. It is part of our curriculum.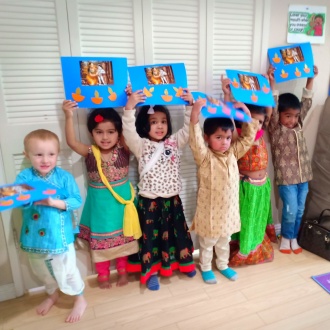 Festival celebrations are integral part of our curriculum as it resonates with our mission statement, to provide our kids strong foundation of our culture and values. Not only we celebrate festivals and bring cheer to their days but we also explain the reason and importance of the celebration. We celebrate American, Indian and important global festivals with much enthusiasm and cheer.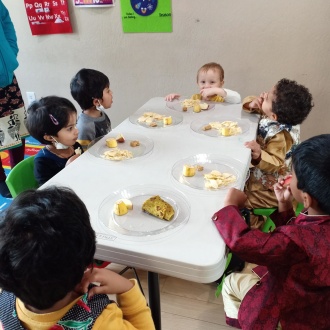 We provide pure vegetarian, organic meals prepared freshly.
Organic ingredients: We include all organic ingredients to the extent possible in all our preps. Rice, Flour, Milk/Dairy, Varieties of Cereal, Bread and Butter, Spices and herbs to the extent possible, all types of lentils, all fruits, all Vegetables to the extent possible.
We have predefined menu for Breakfast, Lunch and PM snack which is shared with our parents in advance